We are happy to present our product - waterproof stickers with key labels, so you can identify your harmonicas quickly. A single sticker has 3 labels: for relative 1st, 2nd and 3rd position. One sheet contains 40 stickers, so it's enough to label all your currently used instruments! Check this out: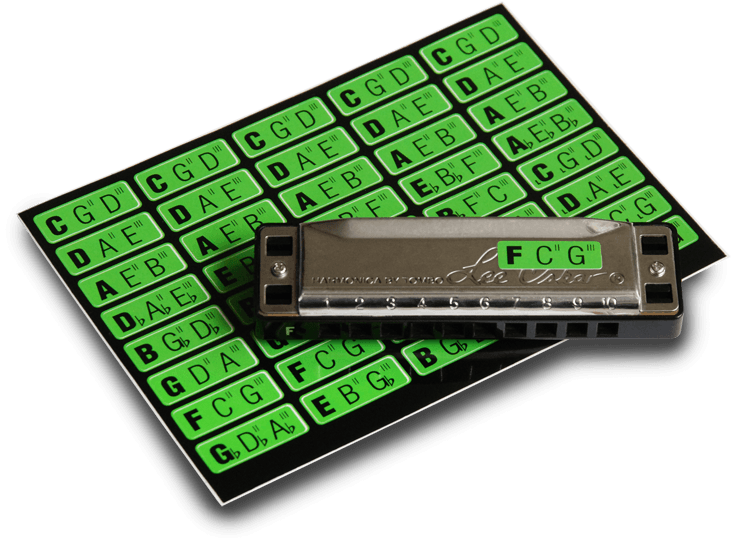 We send stickers by registered post mail (dispatch from Poland).
Please, choose your best option:
Dear customers! All orders made between January 20th and January 30th will be sent on January 31st.
FAQ:
↓

How can I pay for the stickers?

We use secure PayPal payments, including Debt/Credit Card (PayPal account is not required).
The payment is transferred instantly.
↓

How long will I wait for a delivery?

We ship the stickers in 24h after the request. The delivery time depends on which country You are in, starting from 2 days to 2 weeks.
↓

Which keys are included on 1 sheet?

5x C, 5x D, 5x A, 4x F, 4x G, 3x Bb, 2x Eb, 2x E, 2x B, 2x LF, 1x Ab, 1x Gb, 1x Db, 1x LD, 1x LC, 1x HG
↓

Do the stickers glow in the dark?

The stickers don't glow in the dark, but they are pretty easy to read in a dark or shady room or club.
↓

What is the size of a single sticker?

It is 25x9mm (1x0.35inch).
Any questions? Leave a message.
Company details
VOLE Dawid Wydra
Wolności 11 i
44-190 Knurów, POLAND
VAT No. PL9691447434